The opening of trout fishing season in April signals the unofficial arrival of spring in Central New York, which spoils anglers with mile after mile of waterways with public access.
New York state has some 7,500 lakes and ponds; 70,000 miles of rivers and streams; and hundreds of miles of coastline. Central New York boasts some of the best water to accommodate your fishing trips or vacation.
Boat launches and rentals abound here, but there are plenty of shore fishing spots for those looking for a quiet morning, afternoon or evening along the water.
The New York state Department of Environmental Conservation offers one-day and seven-day licenses ideal for visitors, who can also take advantage of Free Fishing Weekends throughout the year. For those with little anglers, kids and teens under 16 may fish without a license in New York.
Ready to wet a line? Here's how to fish like a local …
1) West Canada Creek
This favorite spring destination features 26 miles of public access and teems with tons of brook and brown trout, which are stocked annually.
Tip: Trenton Falls in the town of Trenton is a top spot to hook a trophy.
---
2) Erie Canal
A waterway steeped in history and currently known for outdoor recreation hosts countless opportunities to cast. Central New York hosts some 98 hike, bike and paddle-friendly miles of the canal, many of which are also fishable.
Tip: The 36-mile Old Erie Canal State Park attracts outdoor and history buffs in the warmer months. It's also not a bad place to fish for a wide variety of species.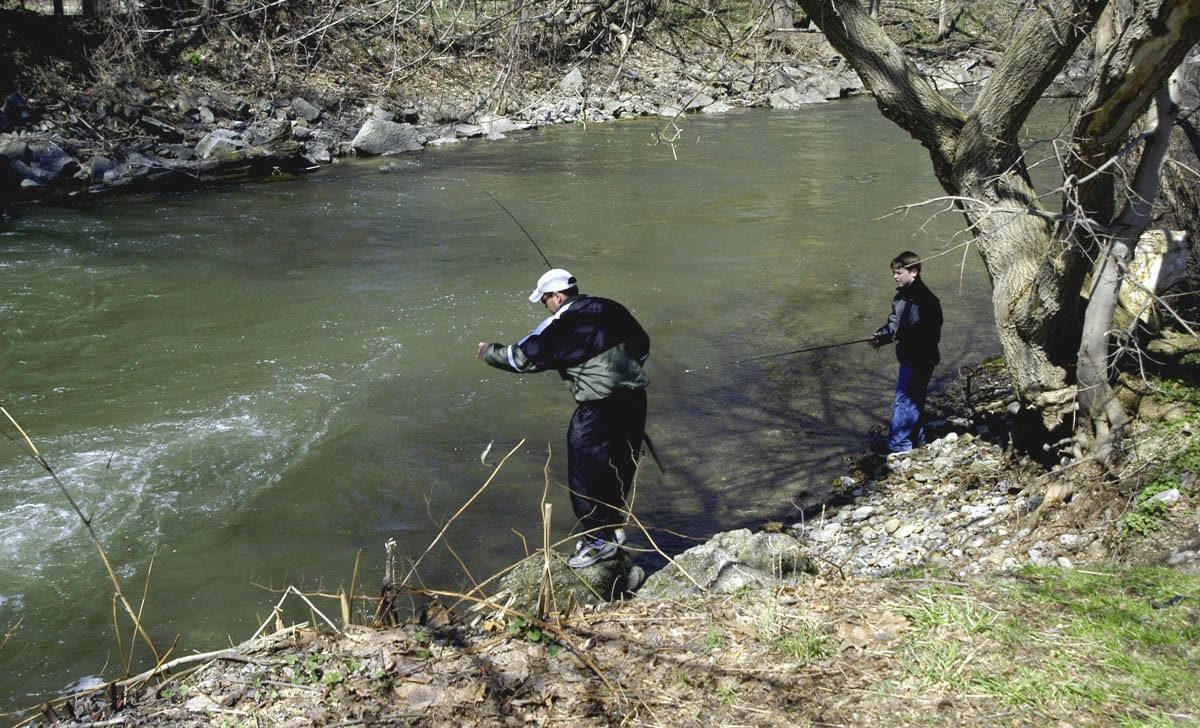 ---
3) Chenango Greenway Conservancy Riverwalk Trail
Both hikers and anglers can enjoy this six-mile path tucked away in rural Chenango County. Visitors to the town of Norwich have easy shore access to the Chenango River as well as a number of hiking trails to fill out a day of the great outdoors.
Tip: The Chenango River is also a paddler's playground ideal for a day of fishing while you float with the current.
---
4) Otselic River
When it comes to shore fishing, this river might have some of the best. Just follow State Route 26 for some 20 miles of water stocked with brown trout. Plenty of parking lots along the way make this stretch a very convenient way to spend the day fishing.
Tip: The river pours into Whitney Point Reservoir, where Dorchester Park hosts one of Greater Binghamton's most popular spots.
---
5) West Branch of the Delaware River
Part of a larger three-river system, the renowned west branch of the Delaware is a top spot for dry fly fishing on the East Coast.
Tip: Book a weekend at the West Branch Angler Resort, featuring accommodations tailored for the outdoor enthusiast.
---
6) Oneida Lake
New York state's largest and Central New York's most famous lake is well known for perch, walleye and bass angling, even hosting national professional tournaments.
Tip: While this 50,000-plus acre water body beckons to be boated, visitors without a vessel can try to hook a tasty walleye right from the pier at Sylvan Beach.
---
7) Chittenango Creek
Trout anglers love this Oneida Lake tributary featuring nearly five miles of public access. You can also hook bass and coveted walleye near the lake.
Tip: Follow the creek and you'll arrive at the 167-foot Chittenango Falls. Wet a line and take in the lovely scenery below the falls.
---
These tips cover any trip, whether fishing-specific or just a weekend on the road. Public access is plentiful everywhere in Central New York, especially at boat launches. Just keep your eyes peeled for the DEC signs and wet a line.
From numerous state-maintained docks to 184,000-plus acres of public wilderness, every angler can craft their own adventure in Central New York.